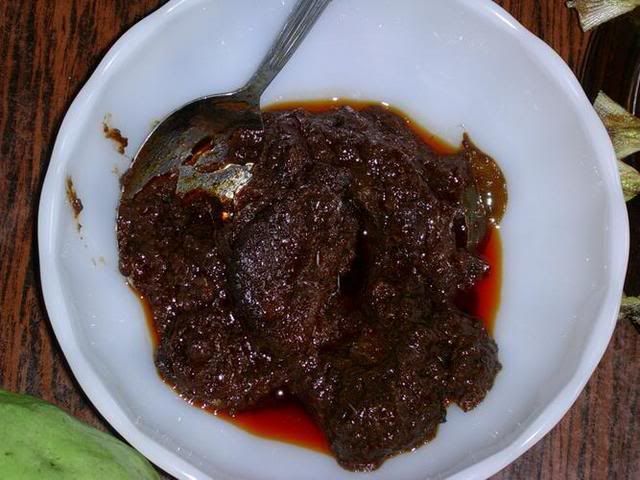 When I was fooling around talking about recipes during lunch this fasting month, I decided to google for besamah, one of my favoured beef dishes that I have talked about before. Lo and Behold I was amazed that particular article has been reposted by another blogger . It seems that i do have some readers after all. For others so inclined, carry on. I have no problems with this.
Anyway this inspired me to google further if there are any new besamah recipes being posted
since my last search and this has brought me down this road where it seems besamah/pesamah seems to have another name, i.e, gulai masak hitam when I looked at the recipe and attached pictures. These as opposed to the normal gulai masak kicap or the mamak daging masak hitam looks very similar to the besamah, and since they are of Perak origin I suspect may be one and the same, variants of course. With due respect to the website owners, I reproduce their recipes and photos here. They look very similar to the besamah at the top right.









(sukatan pepandai sendiri...main agak2 jer-jgn risau pasti
menjadinyee)




1/2 kati daging btg pinang – dipotong dan direbus bersama kicap
(air rebusan jgn dibuang)




1/2 cwn - kicap manis (cap kipas udang)

3 sudu besar cili kering yg telah diblend (ikut suka pedas, kalo nak pedas
lagi..tambahlah)

BAHAN A – asingkan kepada 2 bhg. (untuk digaul bersama daging dan utk
tumisan)

3 sbJintan manis ]




disangai lepas tu diblend halus

3 sb Jintan putih ]


3 Bwg putih }
4 Bwg merah }diblend
sedikit Halia }

Bunga lawang/kulit kayu manis/buah pelaga/asam keping

Minyak masak

Cara

1. Daging yang dipotong/dihiris nipis – direbus bersama kicap. (Air rebusan jgn byk sangat sbb daging keluarkan air rebusan)
2. Bila daging dah empuk, gaul sedikit dengan bhg. A, goreng kejap jer.
3. Asingkan daging ke dlm pinggan, masukkan pula lebihan bhn. A tadi utk ditumis.Masukkan cili kering (kalau suka pedas taruh lebih), kacau sebati.
4. Masukkan pula daging dan air rebusan tadi, gaul sampai rata.Taburkan asam keping,b.lwg,kkmanis dan buah pelaga.
5. Masukkan kicap jika nak nampak lebih hitam lagi (maklang selalunya tambah lagi kicap bior hitam pekat)
6. Biarkan mendidih sekejap dan kuah agak pekat, bulehlah diangkat

and a modified version that brought me down this path that is much closer to the besamah I know

Bahan-bahan:

500gm daging lembu, dipotong dan direbus bersama 1/2 cawan kicap

Bahan2 digoreng tanpa minyak dan dikisar kering:

2 sudu besar jintan manis

2 sudu besar jintan putih

1 sudu besar biji ketumbar

1/2 sudu besar lada hitam

Bahan kisar basah:

3 Bwg putih

4 Bwg merah

1 inci halia

7 tangkai cili kering, direndam dulu

Rempah-rempah:

1 kuntum bunga lawang

2 inci kulit kayu manis

3 kuntum buah pelaga

Sekeping asam gelugur

Garam dan gula secukup rasa

Minyak masak utk menumis

Cara-cara:

1. Panaskan minyak dan tumis bahan kisar basah. Masukkan rempah-rempah.

2. Masukkan daging yg telah direbus empuk. Kacau hingga mesra.

3. Masukkan bahan2 kisar kering dan asam gelugur. Tambah kicap jika perlu.

4. Masak sehingga kuah agak pekat. Siap dan boleh dihidang.




The funny thing is that there seems to be another dish from Trengganu that seems to be very similar.



GULAI DAGING TGANU from http://www.melayu.com/v2/sembang2/mesej.php?thread=1851


Bahan500gm daging lembu [potong nipis kecil dan basuh &
toskan]

2 s/b kerisik

2 cawan santan pekat

2 s/b gula merah/perang [brown sugar]

2 keping asam keping

minyak

garam

Bahan Mesin




20 tangkai cili kering

1 s/b rempah kari daging

2 s/b rempah mentah gulai cap ROSE

1 s/b rempah masak gulai cap ROSE

7 ulas bawang merah

1 labu bawang besar

3 ulas bawang putih

3 cm halia

2 cm lengkuas

Bahan tumis

2 cm kulit kayu manis

3 kuntum bunga cengkih




2 kuntum bunga lawang

3 biji buah pelaga

Cara.

1. Panaskan minyak dan tumiskan bahan tumis sehingga
wangi.

2. Masukkan bahan mesin dan masakkan sampai wangi dan naik
minyak.

3. Masukkan daging dan kacau rata. Masukkan sikit air dan kacau rata
lagi.

4. Bila nampak naik minyak masukkan santan, kerisek, garam dan gula merah.

5. Biarkan reneh sampai mendideh. kacau sekali sekala.

6. Bila mendideh masukkan asam keping dan biarkan sampai pekat.

7. Bila dah pekat, boleh hidangkan.